This week's Just.Be.Enough Be Enough Me prompt was, "When I look in the mirror…"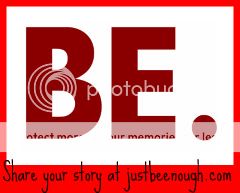 This weekend, we celebrated my son's 1st birthday.  I hated most of the pictures of myself from that day.  I saw the extra pounds around my waist that I've been struggling to get rid of for exactly one year now.  I saw the bags under my eyes from my recent insomnia.  I saw the anxiety in my eyes, something that I've really been struggling with as we're now a month away from moving out of state.
I looked at myself and didn't like what I saw.  The negative thoughts starting running through my head, "You should have exercised even harder"; "You should sleep better"; "You should be calmer"; "You should be better."  It's a constant battle between my PPD/PPA and learning to love, appreciate and accept the woman I am and the woman I am trying to become.
But I am learning.  I am learning to change the way I think.  I am learning to combat those negative "should" statements with positive reassurances.  "You've exercised hard this year – you even completed a 5k!"  "You've been doing great at getting to bed earlier."  "You're doing well learning relaxation techniques."  "You are a good mom.  C loves you."
I'm learning to look in the mirror and see me.