This shop has been compensated by Collective Bias, Inc. and its advertiser. All opinions are mine alone. #nothinglikeahug #CollectiveBias

Practical gifts are what I enjoyed receiving most as a new parent. When we had our first child, we were shocked that a tiny human used so many diapers! And laundry. Whew, we did so much laundry. If only I had requested more blankets and washcloths on our registry… That's why I love to give adorable, practical baby shower gifts and new parent gifts. You can even transform their registry items into something adorably practical! This diaper airplane baby gift will be a hit with new parents. Hover over the image below to click through and purchase the Huggies products you will need for this project!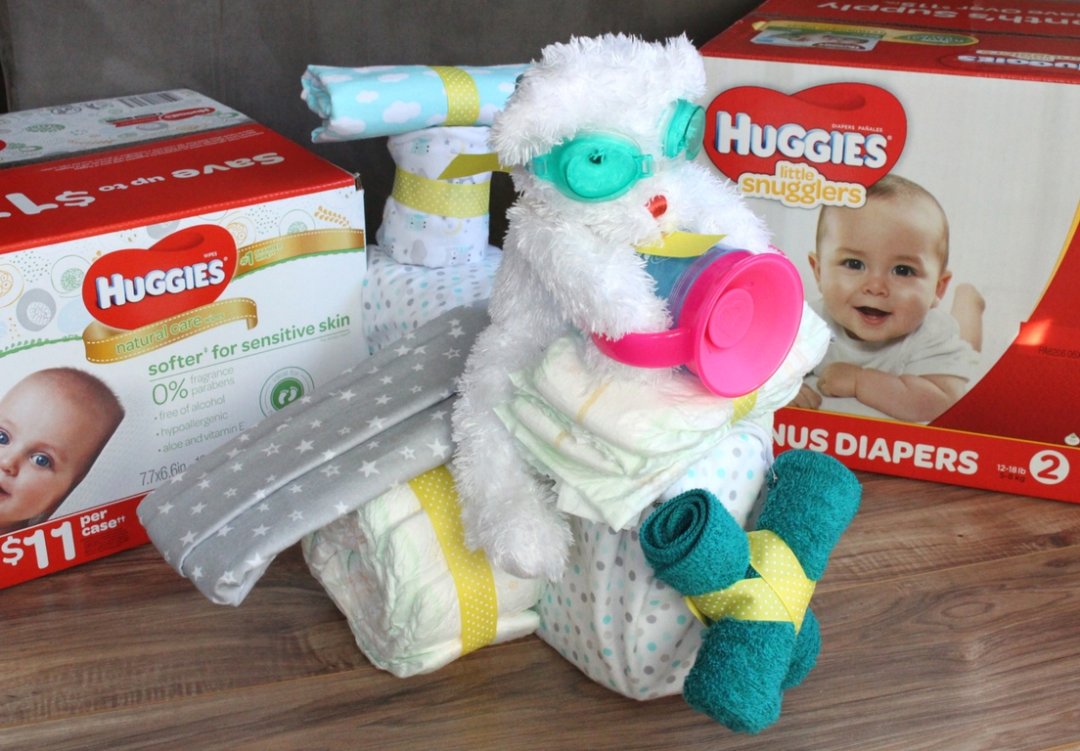 Huggies was our brand of choice when our kids were in diapers. Huggies® Little Snugglers help keep a newborn's perfect skin clean and healthy – and it's the fastest growing brand used in hospitals! Sam's Club is a great place to stock up on Huggies diapers and wipes with already low prices.
Sam's Club members get awesome savings and have the opportunity to take advantage of club pick up. Order your items online, have your cart filled for you, and bypass the check out line when you pick up your order in the store. Get the best value when you shop and save time so you can spend more of it with your family! Here is a helpful chart showing how many diapers you will need and how much you will save by purchasing them at Sam's Club:
For a limited time this holiday season (until 11/22), you can save $8 instantly when you buy 2 Huggies Diapers, Pants or Wipes products at Sam's Club. Use Ibotta? You can get an additional $4 savings through Ibotta when you buy Huggies at Sam's Club!
Here are the supplies you will need to create a diaper airplane baby gift:
Huggies® Little Snugglers
Huggies® Natural Care Wipes
4 receiving blankets
2 washcloths
2 spools of ribbon
2 rubber bands
2-4 safety pins
1 sippy cup
1 stuffed animal
cardboard scraps for the wings
shipping tape
tape
To create the base of the airplane, stack two packages of Huggies Wipes next to each other. Use a receiving blanket to wrap them like a gift and secure with a piece of shipping tape. Set this aside for later. Fold another receiving blanket in thirds and fold it to resemble the tail of an airplane. Secure it with a piece of ribbon.
Now we will create the propeller. Roll two washcloths and secure with tape. Next, make an X shape with the rolled washcloths and secure them with ribbon. You will use safety pins to attach this to the base of the airplane. To create airplane wings, cut scraps of cardboard and wrap in a third receiving blanket. Secure with a piece of shipping tape on the bottom side of the wings.
Fan some diapers out in a tight wheel shape. Secure them with a rubber band, then hide the rubber band with a piece of ribbon. I added a pair of goggles and a ribbon scarf to my teddy bear pilot, but decorating your pilot is optional fun!
Our teddy bear pilot uses a sippy cup control perched atop a stack of four diapers. You may be looking over at that final receiving blanket that we haven't used yet. It's time to use it! Fold that in thirds and roll it tightly, securing with a ribbon. This will elevate the tail of your aircraft. Keep everything secure with shipping tape and/or safety pins. We're ready to take flight!
This is almost too cute to give away, y'all. But presenting it to the recipient is the best part!
Here it is – a diaper airplane baby gift with a teddy bear pilot. Who will you gift it to? Don't forget to stop over at Sam's Club for instant savings on Huggies!