This shop has been compensated by Collective Bias, Inc. and its advertiser. All opinions are mine alone. #MerrySpritzmas #CollectiveBias
As an introvert, I never thought I'd love hosting guests. I enjoy my own space. But after moving into our first home, I had a revelation: houseguests aren't annoying! I actually look forward to hosting family and friends. We try to create an inviting space for them to enjoy their stay. You guys – I overhauled the downstairs bathroom because I wanted it to be bright and friendly for guests. Is that going too far?
How do you top a bathroom makeover? I wondered if I set the bar too high until I found a huge selection of Poo~Pourri at Bed Bath and Beyond. It was a light bulb moment. This year, I would create a festive guest basket for the bathroom inviting my guests to, "Treat Yo'self." Poo~Pourri is all natural and simple to use. When you spritz it into the toilet bowl before-you-go, Poo~Pourri's pure blend of natural essential oils creates a film on top of the water. That protective barrier traps odor under the surface before it ever begins! The only thing you'll smell is a refreshing blend of natural essential oils. Flush yeah!
The Merry Spritzmas® Potty Box is shaped like a toilet, you guys! Poo~Pourri's Merry Spritzmas® is a natural essential oil blend of peppermint, vanilla and citrus that invites your guests to leave the porcelain sleigh smelling better than they found it. Buy it because it's funny, use it because it works! The Holiday Potty Box Gift Set also includes the Original Citrus scent, their most popular scent of uplifting lemon, bergamot and lemongrass essential oils. Hover over the products below to learn more about them, and click through to Bed Bath and Beyond's website.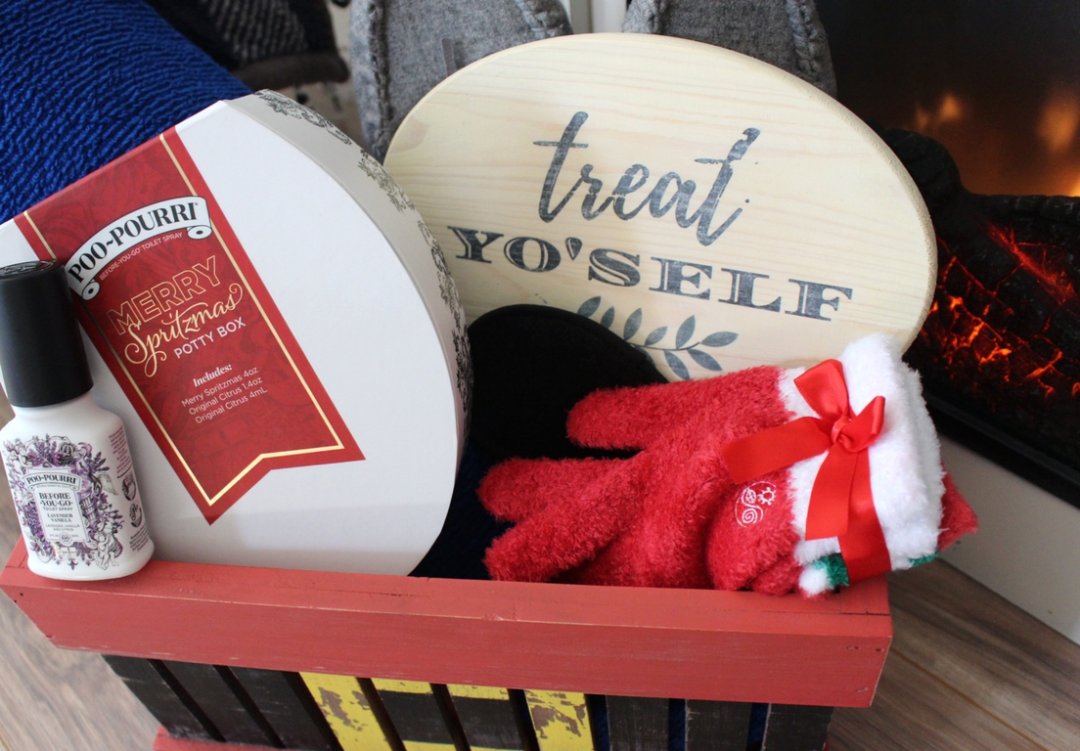 To create this festive guest basket, you will need to gather products that your guests can use to pamper themselves. In addition to Poo~Pourri, I found a luxuriously soft bath towel, spa gloves and socks, a sleep mask, and slippers at Bed Bath and Beyond. Here's what you will need to create this rustic Santa wood crate:
Wood crate
Painter's tape
Red chalk spray paint
Black spray paint
Yellow spray paint
Cardboard for overspray protection
Angled sanding block
You will create the belt design with painter's tape. I painted the yellow first. Once that was dry, I covered the belt area to paint the box red.
Finally, cover the red and yellow areas to paint Santa's black belt.
You can rough all of it up with your angled sanding block after it is all dry, or do this a little at a time like I did. Either way will result in a rustic Santa belt buckle crate!
And don't forget about your own rustic sign with an invitation to, "Treat Yo'self." Grab the free printable here, print it out and transfer it to the wood sign with gel matte transfer. I also used white wax to distress and matte decoupage craft glue to seal.
I don't know about you, but I am terrified to, uh, use the bathroom at someone else's house. Everybody poos, though, am I right?! The anxious guest will be happy to see Poo~Pourri in your bathroom! It's the gift they'll remember for the smell they'd rather forget.
Poo~Pourri is also available in a Holiday Pull Apart Gift Set – two gifts in one! Find the other two holiday scents at Bed Bath and Beyond as well: Spiced Apple, a blend of apple, pecan and citrus; and Secret Santa, a blend of cinnamon, vanilla and citrus to help you create a spritzmas miracle!
Which scent of Poo~Pourri, the Before-You-Go® Toilet Spray, would you like to try? What pampering gifts will you add to your bathroom guest basket? Don't forget to grab a coupon to save in-store or online at Bed Bath and Beyond!