This shop has been compensated by Collective Bias, Inc. and its advertiser. All opinions are mine alone. #BigelowTea #TeaProudly #CollectiveBias
When I was young, I remember my grandfather leaving his coffee mugs throughout the house. My dad also finds his mugs abandoned in various places. Now I find my own mugs around the house. This is clearly a genetic affliction, y'all. The upside is that I never set my cup down without using a coaster! Considering my need for coasters in every room, I created these rustic wood transfer coasters with positive mantras to surround myself with positivity throughout the day. I started a healthier New Year New You routine, starting and ending each day with intention. I work on goal-setting, list-making and reading inspirational material while enjoying a cup of Bigelow Tea from Walmart. Hover over the image below to click through and find your favorite flavor of Bigelow Tea!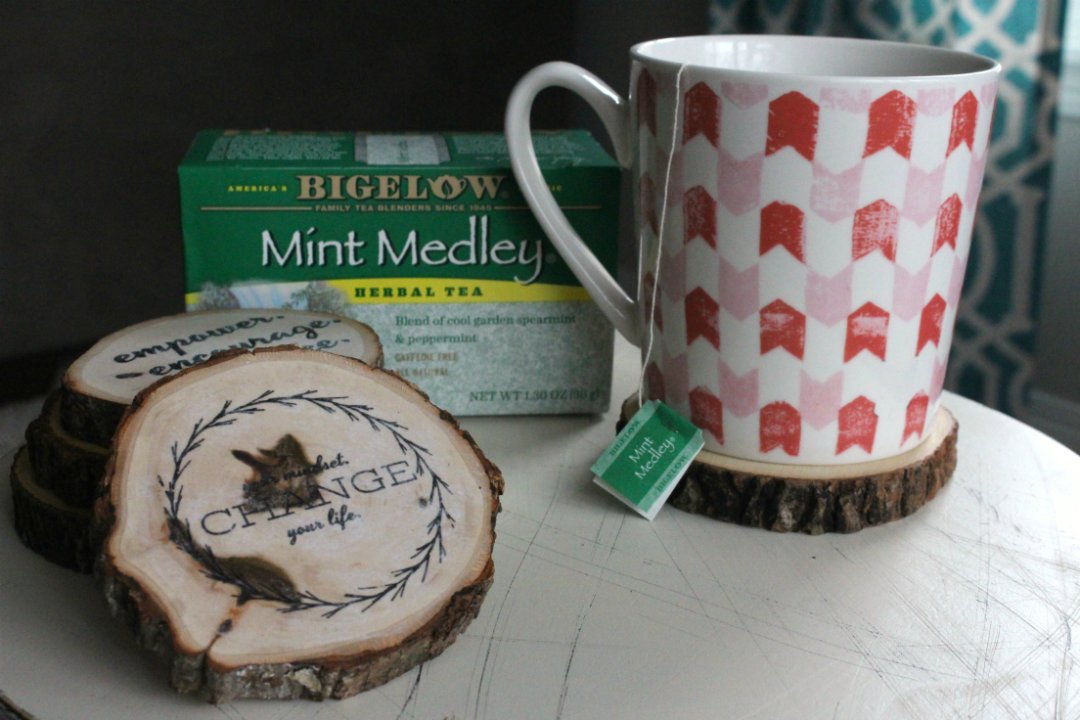 You can find a large variety of Bigelow Tea at Walmart. I am partial to mint tea and love that there are several varieties for me to enjoy!
To create these rustic wood transfer coasters, you will need:
wood slice coasters
matte gel transfer
2 sponge craft brushes
matte decoupage glue
For the wood transfer to work, you will need to use a laser printer for this printable. Resize as necessary to fit your coasters! Cut them out, leaving a small border of white space around the positive mantra. This white space gives you a little room for error when it's time to gently rub the paper off the coaster. Use a craft brush to generously apply matte gel transfer to the coaster and the paper.
Flip and adhere to coaster. Use a flat edge to smooth out any bubbles. A credit card works well for this step! Let your coasters dry overnight.
Use water to saturate the paper. Gently use a circular motion with your fingers to remove the paper. Move your fingers around quickly – if you spend too much time in one place, you may remove the graphic as well. When the coaster is dry, apply matte decoupage glue with a craft brush. This glue will seal your coaster to protect it from spills. I suggest two coats on each side.
When the glue is dry, your coasters are ready to use! I anticipate finding these under my abandoned mugs on the daily.
Beginning and closing each day with intention is helping me stay laser-focused on my business and personal goals. There are four ways I am setting goals this year: annual goals, quarterly goals, monthly goals, and weekly goals. It's an awesome way to aim high, stay motivated, and keep myself accountable.
What are your New Year New You goals? Aim high – even if you don't attain your highest goals, you will achieve more than you anticipated. How will a warm cup of Bigelow Tea help you start your day with intention? January is Hot Tea Month – which flavor variety will you enjoy in celebration? Get inspired with Bigelow Tea on Facebook, Twitter, and Instagram!